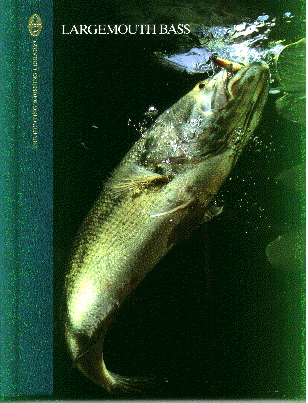 Largemouth Bass
More American anglers pursue largemouth bass than any other freshwater gamefish. The main reason: bass fishing is exciting. Once you experience the head- shaking leap of a largemouth, chances are you will come back for more.
One measure of the largemouth's appeal is the huge number of anglers that belong to bass-fishing organizations such as the Bass Anglers Sportsman Society (B.A.S.S.).
Most of these fishermen can find bass within a short drive from home. Largemouths are found in waters from southern Canada to the tropics. They live in muddy rivers and crystal-clear lakes, tiny golf course ponds and 100-mile-long reservoirs, knee-deep sloughs and even brackish coastal estuaries alongside saltwater fish.

The purpose of this book is to make you a better bass fisherman. It leads you through the world of bass fishing with a clear, concise text and spectacular color photographs. Throughout the book, exciting photos provide rare underwater glimpses of bass in their favorite hiding spots.
Multiple-exposure photographs show lures the way bass see them, enabling you to compare the action of different lures and different retrieves. You will see how bass strike and what you must do to hook them. Hundreds of easy-to-understand pictures and diagrams show you where to find bass and how to catch them.
The first requirement for catching bass is understanding the fish. This book explains every important aspect of largemouth behavior based on input from prominent bass scientists. You will discover how bass detect food, what they eat and when they are likely to feed. After studying the results of a unique laboratory experiment, you will understand why finding cover is vital to catching bass. In most waters, only a small fraction of the acreage contains bass. To catch largemouths consistently, you must know where to look at different times of the day and year, and under different weather conditions. High-altitude NASA photographs will guide you to the prime locations.
The equipment section will help you select everything from boats and motors to rods and reels. Not everyone needs a high-powered bass boat; sometimes a small, portable boat or float tube works better. But a serious bass fisherman should own a depth finder and know how to use it in conjunction with a lake map. This section will also show you how to choose the right lure or bait, and how to find the best retrieve.
Most bass fishermen know how to catch largemouths in their favorite lake when conditions are right. But if the weather changes or if they try a different lake, they fail to make the necessary adjustments. The last section will show you how to find bass quickly and how to make them bite in almost every conceivable situation. Included are dozens of proven techniques, plus many little known secrets used by the country's bass experts.
Whether you do most of your fishing in tiny farm ponds or sprawling reservoirs, whether you are a beginner or a veteran, this book is sure to improve your bass-fishing skills.

Go to the Largemouth Bass
Table of Contents

Hardcover / Full Color / 160 pages
$19.95 plus S/H
To Order
---
---