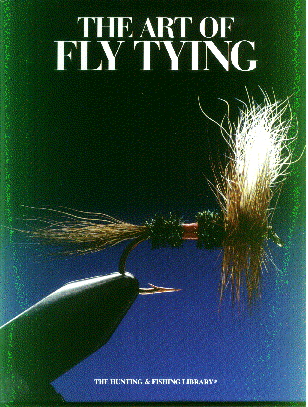 The Art of Fly Tying
Of all the ways to catch a fish, few are as exciting and rewarding as catching one on a fly you've tied yourself. An artificial fly can entice the slow rise of a trout or the explosive strike of a largemouth bass. And for many fly anglers, tying the fly is as satisfying as landing the fish.
For thousands of years, anglers have been wrapping hooks with wool, fur, feathers and thread in order to imitate some morsel in a fish's diet and fool the fish into taking the hook. But despite this long history, the methods and techniques of fly tying remain essentially unchanged.
Fly tying is the craft of combining several basic elements-tail, body, wing and hackle-to create a completed fly. It can be accomplished with a few simple tools and materials. And once you've learned the basics, you'll find that most fly patterns are simple and easy to tie.
The purpose of this book is to introduce you to the fundamentals of fly tying, including the tools, materials and techniques required for tying, and provide you with clear, color photographs of the most popular fly patterns and recipes you need to tie them.
The first section, "Understanding Fly Tying," gives you a brief history of fly tying and its traditions, from the earliest written descriptions to today's innovations in materials. This section also shows you the wide variety of aquatic insects and other foods that make up a fish's diet and explains how understanding these various aquatic foods can help you tie more accurate and effective imitations.
The second section, "Fly-Tying Tools & Materials," shows you all the tools you'll need to tie flies, and the wide range of hooks, thread and materials available. You'll also learn tips on organizing your work area for more efficient tying.
"Fly-Tying Basics" includes a description of the many components of a fly. You'll learn' about each stage of tying a fly, from how to start the thread on the hook to the best finishing knots. In between, you'll find dozens of essential techniques for tying tails, bodies, wings, hackle and other parts of a fly, with each technique shown in full-color, step-by-step photos.
The last section, "Fly Patterns," shows you how to combine these elements to create a finished fly. You'll learn step-by-step procedures for tying six different fly types, including streamers, nymphs, dry flies, wet flies, terrestrials and bass flies.
After each basic pattern, we'll show you photos and complete recipes for dozens of other patterns that can be tied using the techniques demonstrated in the initial step-by-step sequence. In all, you'll learn over two hundred classic and new patterns.
Whether you're just starting or have been tying for years, this book is sure to expand your knowledge and improve your skills in the art of fly tying.

Hardcover (with wire-o binding)/ Full Color / 160 pages
$23.95 plus S/H
To Order
---
---