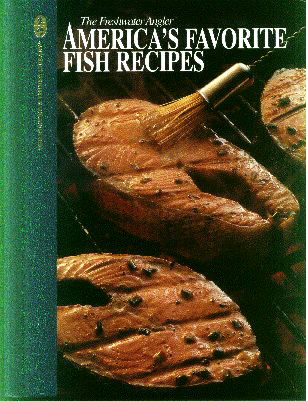 America's Favorite Fish Recipes
America's Favorite Fish Recipes is just that- a compilation of the best fish recipes from across the country. We've even tossed in a few European favorites.
To collect a wide selection of recipes, we invited Hunting & Fishing Library subscribers to submit their top personal choices. We tapped the brains of our own staff to recall great dishes they had run across in their travels; then we contacted the particular lodges and restaurants to get the details. We also invited well-known outdoor writers to send us their prized recipes.
Then our home economists chose the best of the best. All dishes were sampled by staff members and other anglers to make sure they passed the taste test.
Each section of the book covers a different fish preparation technique, from campfire cooking to oven frying to pickling. We give you the basic information on each technique, followed by a selection of recipes using that method. If a recipe calls for a species of fish you don't have, refer to the substitution chart on page 6 for an alternate choice.
The book also presents handy fish-cleaning tips, like how to reduce contaminants and improve flavor. For a complete guide to fish-cleaning techniques, refer to Cleaning & Cooking Fish, published by The Hunting & Fishing Library. Nutritional information and exchanges for weight loss follow each recipe. When a recipe serves four- to six persons, the data applies to the greater number of servings. In the case of alternate ingredients, the analysis applies to the first ingredient listed; optional ingredients are not included. Analyses of recipes that call for "any freshwater fish" were done with walleyes. Other species information is based on USDA figures.
Many fishermen think the only good way to cook fish is to fry them. For something different, they might try a new type of breading. The remarkable variety of recipes in this book opens up a whole new world of freshwater fish cookery.


Hardcover / Full Color / 160 pages
$19.95 plus S/H
To Order
---
---