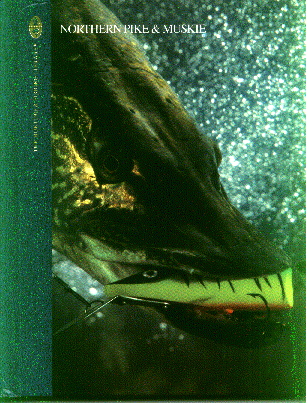 Northern Pike & Muskie
Northern pike and muskellunge are romanticized in more myths and tall tales than any other freshwater gamefish. Typical of these is the legend of the "Emperor's Pike." The fish, supposedly caught in a German lake in 1497, measured 19 feet long and weighed 550 pounds. An engraved copper ring around its body told of its release 267 years earlier by Emperor Frederick II. Examination of the preserved skeleton, however, revealed a hoax. The backbone was pieced together from the vertebrae of several different fish.

If you're looking for "fish stories," you won't find them in this book. What you will find is a wealth of straight information on pike and muskies, along with hundreds of spectacular color photos, that will help you catch them more consistently.
In the opening section, "Understanding Pike & Muskie," you'll learn the basic differences between the two species and how they differ from their hybrid, the tiger muskie. We'll also explain how to recognize different muskie color phases. Actual underwater photos show you how the fish use their senses, how they feed and how they spawn. A list of the most common pike-muskie myths (and facts refuting them) rounds off the section.
"Where to Find Pike & Muskies," acquaints you with their seasonal movement patterns. Satellite photographs give you an unusual and highly informative look at every type of lake or river you're likely to fish, while close-up photos identify the spots to work at different times of the year.
Catching these powerful fish requires some specialized gear. "Equipment" shows you exactly what you need, from rods and reels to boats, motors and electronics to oversized nets, tackle boxes and bait containers.
"Basic Techniques for Pike & Muskies" walks you through every important artificial-lure and natural bait method. We'll show you the best baits and lures and how to present them, as well as dozens of little known tips to make your presentations more effective.
"Techniques for Special Situations" helps you deal with problem fishing circumstances. You'll learn the best techniques for fishing in dense weeds and woody cover, for ultra clear and low-clarity water and for cold-front conditions.
This section also explains how to tackle situations not familiar to most pike-muskie anglers, such as night fishing and fishing in coldwater pockets. We cover the latest ice-fishing methods and offer some crucial advice on catching trophy pike and muskies.
Finally, "Prime Pike & Muskie Waters" reveals current hot spots throughout the United States and Canada. You'll probably discover some choice fishing holes not too far from home.
This book buries all the old myths and brings you into the new era of pike-muskie fishing. Despite the fact that many waters are overfished and good-sized pike and muskies are getting harder to come by, we're confident that you'll be catching more and bigger fish than ever after reading this book.

Hardcover / Full Color / 160 pages
$19.95 plus S/H
To Order
---
---