Looking for other Fishing sites?
---

The FLY-LINE Magazine
Andrew Nowlan Wildcat Creek Fly Fishing Services
e-mail: antrout@terracom.net
http://www.terracom.net/~antrout
---

An online information source geared to the active saltwater angler fishing the Southern California area. Includes reports, online stores, weather information and much more.
http://www.johnnyfish.com
---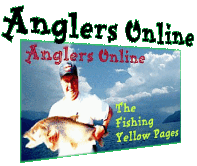 The Fishing Yellow Pages
http://www.streamside.com
---

"The Biosphere Flyfishing Gateway"
"Flyfishing the Pacific Northwest: articles, resources and links."
http://www.proaxis.com/~biosphere/flyfish/flyfish.html
---
Like to add your fishing link to this page?
Send us an e-mail with your URL,
up to 50 words of descriptive copy
and a JPEG or GIF logo/banner.

---
Back to
The Bookstore @ Rancho Park